Playlist
10:00am: Conference Introductions

12:00pm: Lunch

1:00pm: Afternoon Introductions

4:00pm: Conference Closing
Making Accessible Indie First-person Horror Games
Carlos Coronado
Carlos is the indie-game developer of Warcelona, MIND: Path to Thalamus, Koral, INFERNIUM and HORROR TALES: The Wine. The games received over 20 awards, including Titanium indie game of the year for MIND: Path to Thalamus. Carlos teaches game design at the University of Barcelona and is a proud owner of two cats, and loves to sail and dive whenever possible.
Connect with Carlos Coronado on Twitter
Making The Big Con Accessible
In this accessibility post-mortem of the recently released adventure game The Big Con, Tabby will discuss how her background in science communication and education shaped her approach to user experience design.
Tabby Rose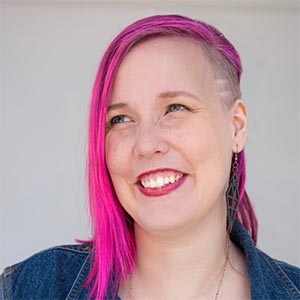 Tabby Rose is the UX Director for Mighty Yell in Toronto, Canada, who recently released The Big Con for Xbox and PC. One of her major roles was to design and develop the accessibility plan for the game and work with AbleGamers Play Panels to test and refine accessibility features. Previously, Tabby was the co-founder and Creative Director for Axon Interactive, where she developed medical education applications and her first game, Quench. She has worked on a number of other independent games in UX, UI, and QA roles. Tabby also serves on the organizing committee for Toronto Game Jam (TOJam), the largest single-location onsite game jam in the world.
Connect with Tabby Rose on Twitter
Gameplay Sound Subtitles
Serhiy Todosan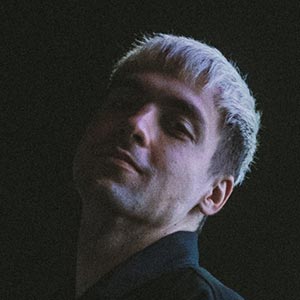 Serhiy Todosan became a game designer, with a focus on accessibility and UX design, at Ubisoft after working in the gaming industry as a QC tester for over three years. Serhiy worked on the Assassin's Creed brand and the new Ubisoft IP Immortals Fenyx Rising. Serhiy also loves photography, horseback riding and yoga (not really succeeding at that tho :D).
Building Equitable and Inclusive Studios with Disabled Employees
Video games are becoming more and more accessible for disabled people but the games industry still has a ways to go with accessible and inclusive employment opportunities for disabled people. We will cover just a few of the things you can do to ensure your studio is creating these opportunities with disabled employees and job seekers. Pulling from both television and video games, I will discuss why it's essential to caption for immersion in games and entertainment media but equally important to caption for meaning when content is educational in nature.
Courtney Craven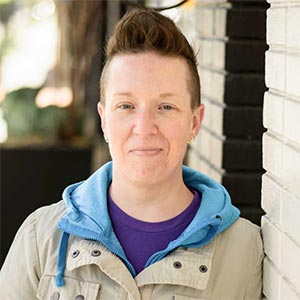 Courtney (they/them) is an accessibility consultant and captionist, focused on game development. Courtney has been working in game accessibility for 8 years and has been the captionist for Unreal Engine since 2019. In 2018, Courtney co-founded Can I Play That? to serve both gamers and developers as an info hub and media hub for all things game accessibility.
Connect with Courtney Craven (they/them) on Twitter
Climbing Mountains – 10 Years in Accessibility
Accessibility is a rapidly evolving field. The pace of change is exponential, over the past ten years it has progressed and changed beyond all recognition. This talk will share a greatest hits collection of some of the key moments in accessibility over the past ten years, to give a sense of that change – where the field has come from, where it is today, and what kind of trajectory it is on for the future.
Steve Saylor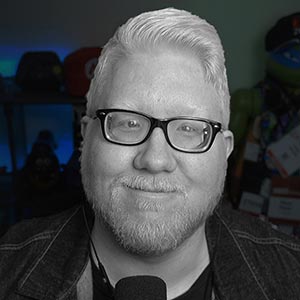 Steve Saylor is an accessibility advocate, consultant, content creator and Twitch Partner. He has consulted with studios such as Ubisoft, EA and most recently Naughty Dog on "The Last Of Us Part 2." His YouTube series started in 2015, "BLIND GAMER" has educated viewers in how Steve is able to play games as a visually impaired gamer. As well as educating viewers on the importance and knowledge of accessibility in video games. He's been featured on many mainstream and gaming outlets including CNN, BBC, NPR, USA Today, IGN and Gamespot.
Connect with Steve Saylor on Twitter
What it's like to be a Deaf person in the gaming world
Chris Robinson