Talks
Returning Host: Steve Saylor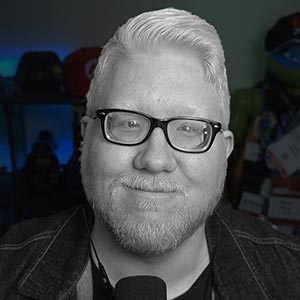 Steve Saylor is an accessibility advocate, consultant, content creator and Twitch Partner. He has consulted with studios such as Ubisoft, EA and most recently Naughty Dog on "The Last Of Us Part 2." His YouTube series started in 2015, "BLIND GAMER" has educated viewers in how Steve is able to play games as a visually impaired gamer. As well as educating viewers on the importance and knowledge of accessibility in video games. He's been featured on many mainstream and gaming outlets including CNN, BBC, NPR, USA Today, IGN and Gamespot.
Accessibility by Design: Finding Our Way on the Path Less Traveled
The days of convincing people that accessibility is important are over and now is a critical time to share a more advanced and nuanced understanding of designing for accessibility. Whatever path we're on, we can redirect to create more immersive and equitable player experiences.
This session defines accessibility in a new light, moving forward from accessibility as "accessibility options" into a new era of accessibility by design. Aderyn will draw from 7 years of industry and 15 years of design experience to dig deep and redefine everything; what is challenge? And is empathy really the answer?
Using examples from real life and tech, Aderyn will demonstrate how to mature our approaches by avoiding more process, playing catchup, providing "assists", or making accommodations to players. Learn how everything is a system, including bias. And since designers are very comfortable with systems, we can head confidently into the future.
Aderyn Thompson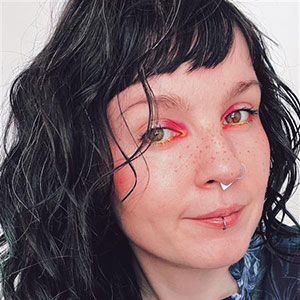 Aderyn is the Design Lead on Ubisoft's Accessibility team. They're responsible for the games arm of the team and are currently focusing on building a brand new knowledge base, resources, and design documentation to drive Ubisoft's development practices. As the lead they've worked alongside the director to hire and mentor the team's Accessibility Specialists.
With collaboration, compassion, and teaching at the core of their approach, the whole team supports Ubisoft's flagship IPs to achieve accessibility excellence through intentional design.
Aderyn is always thinking of the future of game design and, for them, integrated design is the only sensible future for accessibility. Only as a core pillar can we dismantle the stigma that an accessible player experience should be siloed as "special" or different.
Additional and extensive experience with disability and 2SLGBTQIA+ activism informs every aspect of their practice. Before joining Ubisoft in 2020, Aderyn worked freelance as an accessibility specialist across multiple major studios and indie developments. They've delivered or participated in over 20 talks and panels since 2018. Their career in games was built on top of a 15-year career in art and film.
Aderyn's work on Far Cry 6, Watch Dogs: Legion, Assassin's Creed Valhalla, and HyperDot led to recognition for these titles at The Game Awards two years in a row; a highlight of their 7-year career and well fought for after 10+ years of advocacy in the industry. They also humbly received several honours: Canadian Game Awards Winner, The Game Awards Future Class 2020, GI: 100 Game Changers, appeared in Women in Gaming: 100 Professionals of Play, and even contributed Motion Capture for Marvel's Avengers.
At the end of the day, it's always their cat Odin who ensures they finish their days on time and models healthy working practices by leaving the work at their desk.
Makers Making Change
This session will give an overview adaptive gaming at Makers Making Change and the assistive technology devices currently out there for gamers. Describing the benefits of open source assistive technology in the gaming space and demonstrating how the devices can be used. This talk will give an overview of the possibilities of adaptive gaming using the power of 3D printing and designing with the user at the forefront. Tyler will also discuss the resources MMC created to help new gamers eliminate the barriers of getting into adaptive gaming.
Tyler Fentie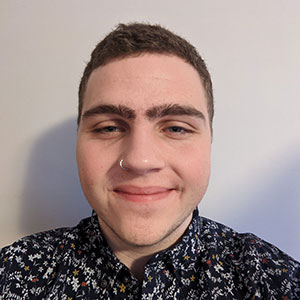 Tyler Fentie, EIT, is a Jr mechanical engineer for the Neil Squire Societies program, Makers Making Change. Tyler has had a lifelong passion to develop devices that were designed with the user at the forefront. Tyler has lived with type one diabetes since he was 7 and has used medical devices ever since. His frustrations with these medical devices not consulting users during the design process and having featured difficult for users fed his drive to want to create alternative solutions. He found Makers Making Change while a student at the University of Alberta and transitioned to a full time employee of the R&D team. Most of Tyler's time at MMC has been focused on expanding the adaptive gaming program to create devices and resources so folks can play games comfortably and the way they want to.
Unveiling The Vale
Falling Squirrel's The Vale: Shadow of the Crown started out as a means to create an affordable narrative experience, but quickly became an endeavour to make a high-quality, accessible, and equitable gaming experience for blind, low-vision, and sighted gamers alike. Learn how we got from point A to point B, our struggles and lessons along the way, and what we'd like to do in the future.
Dave Evans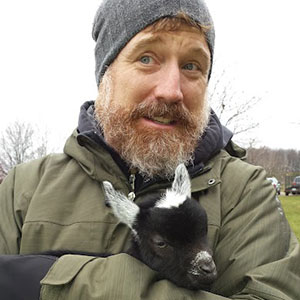 Dave Evans is a Canadian director, writer and actor in the film, TV and games industries. In video games he served as cinematographer on AAA titles Too Human and X-men Destiny and wrote and directed Phantom Compass's flagship indie project Rollers of the Realm, a novel pinball / RPG mashup.
Dave's own studio, Falling Squirrel, specializes in story-driven experiences with the specific goal of pioneering advances in narrative design and blind accessible audio game mechanics.
The studio's first audio based game, The Vale: Shadow of the Crown, is an Action/Adventure title that has just launched on PC and Xbox.
roll="dice"
Before there were MMORPGs, there were groups of friends gathered around a table participating in a truly interactive shared story-telling experience. A regular table-top RPG gamer since he was a kid, Adrian will talk about some of the challenges and affordances offered both by the nature of the game itself and some tools available to gamers. This is not a how-to, but more a loose collection of resources and suggestions.
Adrian Roselli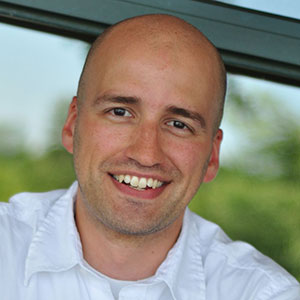 Adrian has been a member of the W3C Web Platform Working Group, W3C Accessible Rich Internet Applications Working Group, and W3C Accessibility Task Force. He has written articles for trade journals, web sites, and participated as an author and editor on five web-related books. Back in 1998 he co-founded a software development consulting firm before leaving at the start of 2016 to start all over. Some may recognize Adrian from his days helping to run evolt.org, one of the first communities for web developers. Adrian has been developing for the Web since 1993.
Lessons Learned
What are some of the biggest surprises, quickest wins, and lurking pitfalls when designing for accessibility? Come partake in the lessons learned – often the hard way – in the course of a decade of game design and development. This session is aimed at students and game makers entering this area, and looking for what they can do today to start having a positive impact.
Douglas Gregory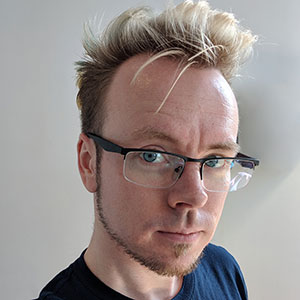 Douglas Gregory is a game designer with 15 years experience spanning indie and AAA studios, including work on Splinter Cell: Blacklist, Starlink: Battle for Atlas, and FarCry 6. He currently teaches game system design in the Bachelor of Game Design program at Sheridan College, while studying toward a master's degree in Digital Media at York University. In his free time, Douglas serves as an elected community moderator on the game development Q&A site GameDev.StackExchange, helping new and experienced game-makers solve problems.